Modern Style & Comfort Just Steps From the Pier
Why stay near the beach when you can stay on the beach? One of the best features of our Pismo Beach hotel is the oceanfront address, as well as our central location just steps from the Pismo Beach Pier, downtown restaurants, and Oceano Dunes - the only place in California where you can drive on the beach! Enjoy bold, beach vibes during your stay at our oceanfront hotel in Pismo Beach, where you can slip into relaxation mode from the moment you arrive, flip flops optional.
Sign Up for
Special Offers
Stay in the know and up to date.
From butterflies to beaches, the memorable local attractions of downtown Pismo Beach are all located within just a half-mile of Sandcastle Hotel.
Choose from carefully curated snacks, ample relaxed seating, casually sophisticated beach vibes, and unparalleled views at our Pismo Beach bistro and bar on the water.
Modern Beach-Side Amenities
Sandcastle Hotel on the Beach is home to 75 colorful Pismo Beach hotel rooms & suites - all with high-speed Wi-Fi, HD TV, and more.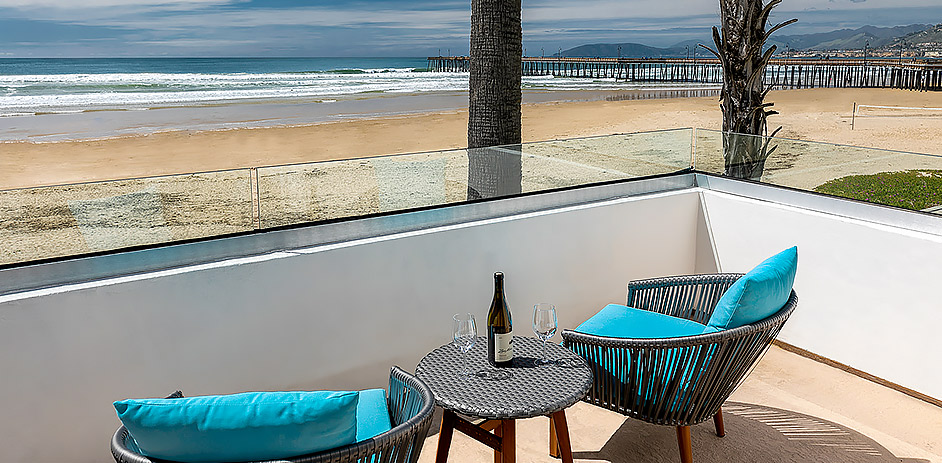 Take advantage of direct beach access, just steps from the famous Pismo Beach Pier.
Rediscover The Love of Travel
Save 25%
It's time to take back what brings you joy and give yourself permission to set sail towards the Golden Coast of California. Whether you need the calm ocean waves to reset your mind, a romantic escape with just the two of you, or simply a break from it all where you can lay in the sand and let the sun shine down, Sandcastle on the Beach is here to help make every experience one for the books. You make the memories, we make the beds.
Promo Code: SPRING
See Offers
*Valid for stays now thru 6/30/21 with Promo Code: SPRING. Subject to availability. View our enhanced cleaning measures here. Enjoy flexible cancellation at no charge up to 48 hours before your scheduled arrival date.
Beach-Inspired Events & Group Accommodations
With two beautiful beachfront venues to choose from, let the sand and sun set the scene. Sandcastle Hotel on the Beach offers an unparalleled backdrop for groups, small social events, celebratory receptions, and beyond. Plus, enjoy access to catering from on-site bistro The Deck - featuring beer, wine, sangria, and champagne alongside flatbreads, charcuterie, and more.